Truly Effective Coaching and Mentoring
"Better than a thousand days of diligent study is one day with a great teacher." — Japanese Proverb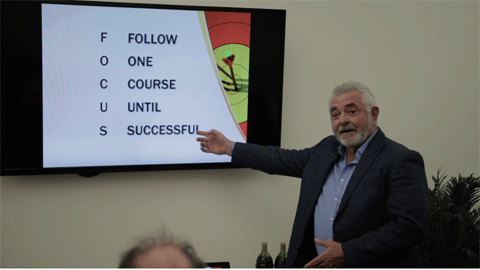 Why do so many people struggle when they enter the home-based business industry? One major factor is the transition from being an employee to being a business owner. This shift can be a bewildering and lonely one, fraught with challenges, such as:
Where do I start?
What is the process?
What do I say?
How do I balance my work life and home life and get this new venture up and running successfully?
Many who start a home-based business attempt to do so by themselves. Their lack of success often is the result of not having a mentor or coach to assist them in creating success in the home-based business arena.
"A good coach will make his players see what they can become rather than what they are." – Ara Parseghian
Mentoring, particularly in its traditional sense, enables an individual to follow in the path of a more experienced colleague who can pass on knowledge and experience. A good mentor opens doors to otherwise out-of-reach opportunities.
When you join our team you not only have access to the wisdom of my 40+ years in this profession, you also tap into the coaching and mentoring of a business team with over 80 years experience and millions of dollars of income in the home-based business industry
Coaching involves the teaching and directing of another person using encouragement and advice. Mentoring refers to a developmental relationship between a more experienced 'expert' and a less experienced protégé.
To better understand how I can assist you as a mentor and coach, please read this unsolicited letter I received in November of 2010. Ray is part of a team who asked me to come participate in a Seattle WA training event. Ray is a former owner of an office supply store and currently is a successful home-based business owner.
Hi Dennis,

Thank you for coming up to Seattle and also, thanks for taking the time you did with everyone. Everyone thoroughly enjoyed your presentation. They had high expectations regarding your training, and you met or exceeded their expectations.

I would like to give you my opinion/observation as to why I believe you are as effective as you are. (It helps ME if I put it in writing). My reasons, not necessarily in order:

Your inner desire to teach and train is evident.
You train with enthusiasm (not hype) from the heart.
You illustrate your statements with stories people can relate to.
You believe in yourself and are confident in what you are saying.
You tell it like it is – "It IS work –BUT, IF YOU DO WHAT I SAY, YOU WILL WIN. If you don't want to do network marketing my way, good luck.  I will be here if you decide to change your mind."
You are a good listener.
You allow people to explore their situation and convey that to you. You don't tell them what their problem is; they tell you — you lead them down a path of discovery.
You have fun!
In a nutshell, you enjoy what you are doing and you do it with heart.  It is not about you.
You set a high standard and by doing so, you give others something to aim for. Consequently, people aspire to be like you.

Your statement about the importance of becoming a STUDENT of Network Marketing came across clearly. To achieve success, you must want to be a student and you must practice.

I consider it an honor to be your colleague and your friend.

—Ray Schwab
I offer to you over 40 years of my personal experience in this industry. Combined with my trusted partners, you can utilize over 80 years of experience and millions of dollars earned in the home based business industry. This makes for a solid background in which to leverage your success.